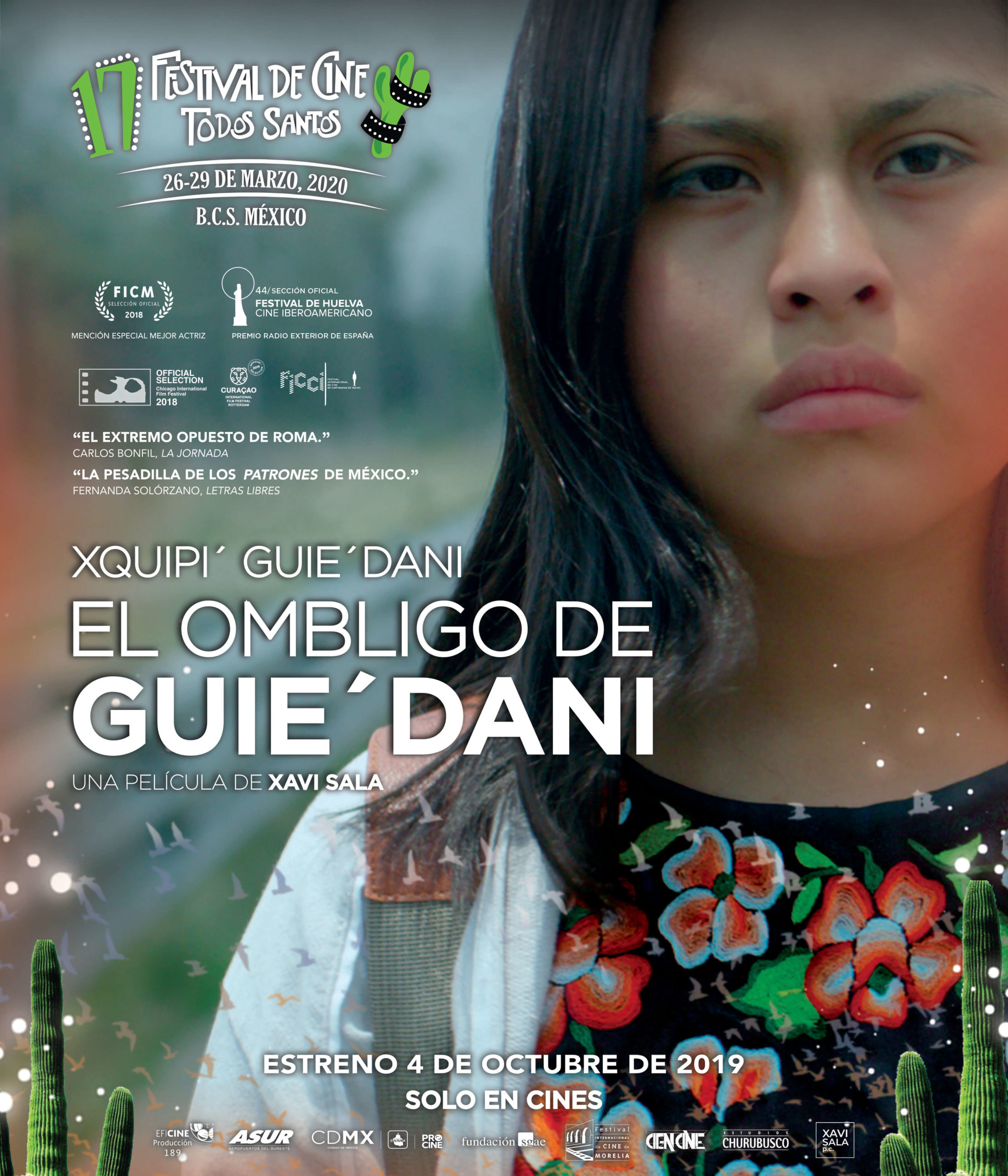 Saturday, March 28
4:45 PM
Voces Ancestrales/
Ancestral Voices
Director Xavi Sala
México/ Ficción/2018/ 119 min.
Idioma Zapoteco/Español
English subtitles
Location: Marquez De Leon Theater
Xquipi' Guie'dani (2018)/ Guie'dani's Navel
El ombligo de Guie'dani
Guie'dani, una niña indígena zapoteca y su madre, entran a trabajar para una familia de clase media de la Ciudad de México. La pequeña no se adapta y es conflictiva. Todo cambia cuando conoce a Claudia, una niña rebelde con la que entabla una intensa relación. Es una historia ubicada en tiempos actuales donde todavía prevalece el clasismo. Mientras que el personaje de la madre, Lidia, muestra una actitud resignada frente a las injusticias de las que es objeto, la personalidad de Guie'dani refleja el espíritu aguerrido de las mujeres zapotecas. Sótera Cruz, la hoy adolescente de 15 años es originaria de Juchitán, Oaxaca, y tiene una mirada que habla sin palabras, que expresa carácter y rabia por lo que ha callado los indígenas por mucho tiempo, Es la primera vez en la historia del cine de ficción mexicano que la protagonista es una niña indígena, que habla en zapoteco y que se rebela frente al status quo. La antítesis de Roma.!
Premio de Postproducción de Largometrajes Procine DF 2017 (México). Premio Cinépolis Distribución en el 15º Festival Internacional de Cine de Morelia, 2017 Mención especial para actriz / Sótera Cruz en el 16º Festival Int. de Cine de Morelia, 2018 . Premio Radio Exterior de España l44º Festival de Huelva 2018 (España) Premio a la Mejor película de ficción en el XXI XicanIndie Festival de Cine de Denver, Colorado,2019 (EE.UU.) Premio de la Crítica, Premio del Público, Premio Mejor Director Premio a Mejor Actriz en el 16º Festival Internacional de Cine de Alacant, 2019 (Países Catalanes)
Guie'dani, a Zapotec indigenous girl and her mother, enter to work for a middle-class family in Mexico City. The little one does not adapt and is conflicting. Everything changes when he meets Claudia, a rebel girl with whom he has an intense relationship. It is a story located in modern times where classism still prevails. While the mother's character, Lidia, shows a resigned attitude towards the injustices to which he is subjected, Guie'dani's personality reflects the brave spirit of Zapotec women. Sótera Cruz, the 15-year-old teenager is originally from Juchitán, Oaxaca, and has a look that speaks without words, expressing character and anger for what the indigene has been silent for a long time. It is the first time in the history of Mexican cinema that the protagonist is an indigenous girl, that speaks in zapoteco and who rebels in front of status quo. The antithesis of "Rome"!